Awardees Honored at a Special Dinner Hosted by President Fenves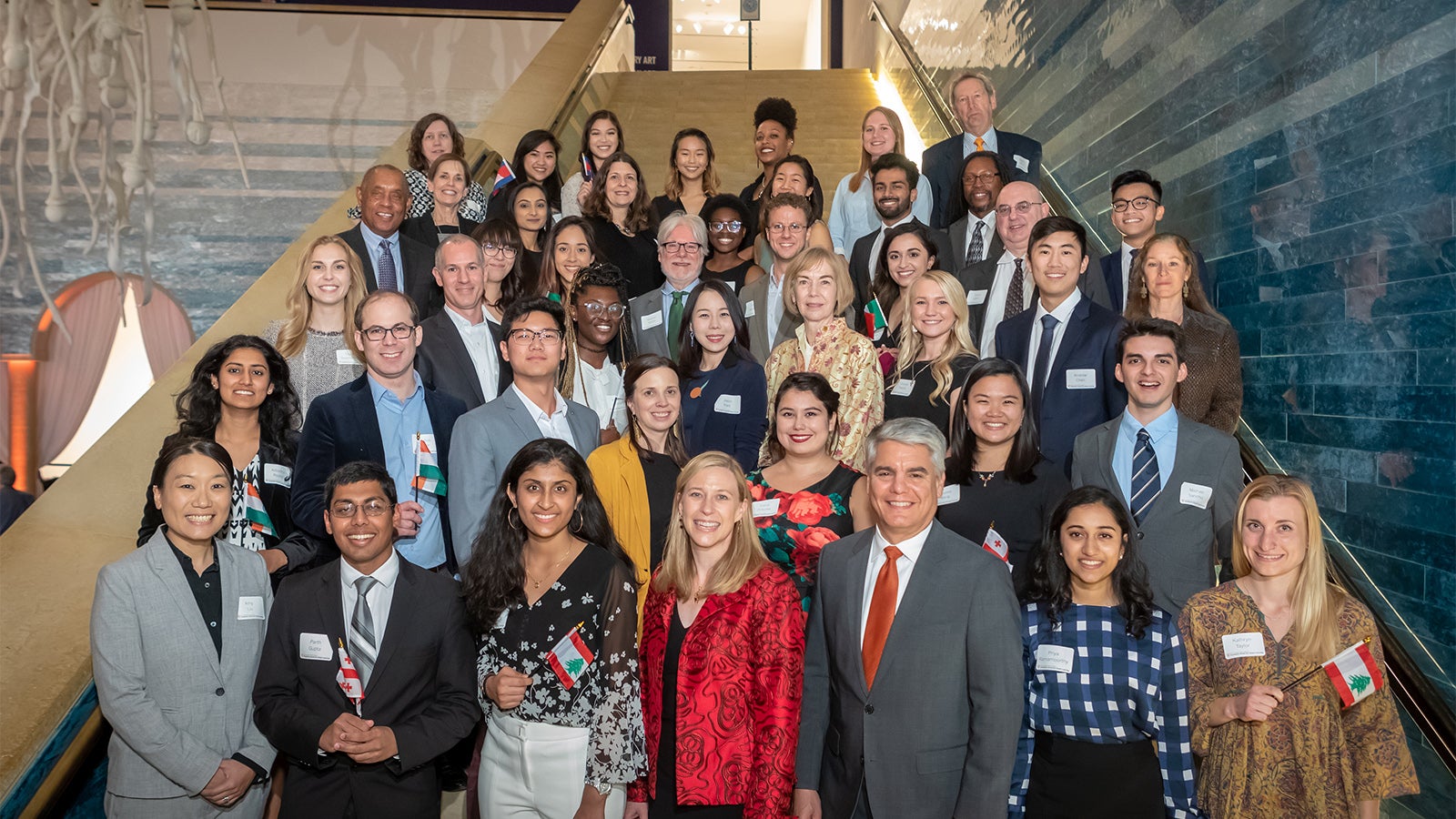 A big bold idea inspired the creation of the President's Award for Global Learning and the big bold ideas of seven interdisciplinary teams of students and faculty were the focus of celebration at a special dinner honoring the inaugural award-winning teams on Friday, Nov. 14.
President Gregory L. Fenves and his wife Mrs. Carmel Martinez Fenves gathered with Provost Maurie McInnis, faculty, students and special guests in the iconic Rapaport Atrium at the Blanton Museum Art. Over dinner and a short program led by Director of Special Projects, Laurie Young, they reflected on how much the teams have already achieved and how much they still have ahead of them.
As each team took the stage to receive a plaque honoring their achievements, student representatives thanked the International Board of Advisors and President Fenves for making the President's Award for Global Learning possible. They also shared what a profound impact the program has already made.  One student highlighted how the opportunity has ignited in them a passion they never knew they had. Another expressed gratitude to the program without which they would not otherwise have met their team members. Each of them commented on their excitement to work closely with faculty and pursue their projects with their international partners.
After months of preparation, their work is only beginning, and their big bold ideas will have a resounding impact, not only on the communities with whom they will work during the next nine months but also on the communities and future of Texas.
Both President Fenves and Provost McInnis remarked on how impressed they were with the teams' proposals which include working with the International Red Cross in Lebanon to custom make female sanitary products for refugees, studying the impacts of colorism in Ghana and developing a unique and comprehensive needs assessment for housing and medical care in Mexico. They also lauded the unique nature of the President's Award for Global Learning which seamlessly blends research and teaching while facilitating both interdisciplinary and experiential learning — all in a global context.
"Leadership means preparing our students to address the greatest challenges at home and in an interconnected and complex world." — Gregory L. Fenves, President, The University of Texas at Austin